Welcome To VTTB Ship Services
     VTTB Ship Service is a major marine repair and conversion contractor serving ship owners, ship management companies and maritime operators worldwide. Our dedicated team of professionals work together to ensure customers receive the highest levels of service at all times. All employees have received intensive technical training to ensure they can handle the tough demands of multiple site environments.
     We are your partner who has the necessary competences for all aspects from ship hull damage to crane system or hatch cover modification, in particular, temporary repairs are selected for a quick continuation of the voyage or dry-docking. VTTB has extensive experience in fault detection, analysis, overhaul, automation and on-site repair of main engine and propulsion systems.
     Our skilled personnel have the know-how and the equipment to perform all kinds of maintenance and electrical installation on board. Whatever the task, from renovation of your entire electrical systems or tank cleaning to load test, we have full facilities to ensure that downtime is kept to the absolute minimum
     Regardless of where the vessel calls at terminals and in port whether it is at berth or anchorages of Vietnam, we will make sure your vessel meets the operational requirements and complies with classification rules and regulations. We firmly believe in building long lasting partnerships based on our tailored services, professionalism, experiences and consistent performance to manage and maintain the quality of service we could offer our customers.    
Hot Works
Electrical Installations & Automated Systems
Mechanical Engine
Piping & Valve Works
Further Services
Cargo Lashing & Securing & Stevedore
Packing Works: Cover Tarpaulin & Net
Boiler Repair Works

Exhaust Gas Cleaning System Inspection And Troubleshooting
Windlass, Winch, Deck Crane Repair Works
Pump, Steering Gear, Air Compressor, AC And Reefer Unit Repair / Inspection
Underwater Diving Works
Main Engine And Auxiliary Engine Repair And Inspection
      VTTB has committed to earn its well-regarded reputation by providing highest quality of services at minimum permissible of time with an effective budget and reliability of just in time delivery
Electrical Installations  & Automated Systems
Our Electrical & Automated Systems Services Include: Let Us Help !
Rewind Electric Motor – Generator – Transformer In AC / DC
Cleaning Generator – Megger Testing Service
Impeller – Rotor Balancing
Switchboard – Control Panel- Starter System
Power Pack – Electro Generator – Automatic Voltage Regulator
Center Alarm System – Panel-Lines -Lighting
Boiler Controls
Fire Alarm System
Gas Detector (Repair – Calibration)

Oil Mist Detector – Remote Control System
Calibration Of Pressure Sensors – Temperature Sensors
Repair Main Circuit Breaker
Gyro Compass Repair – Adjustment
GMDSS – Radio Survey
Automatic Data Acquisition And Logging Systems
Automatic Control Of The Electrical Plant
Exhaust Gas Temperature Comparators
Pump And Compressor Controls
Main Machinery Safety Features
Remote Control Of Main Machinery
Piping & Valve Works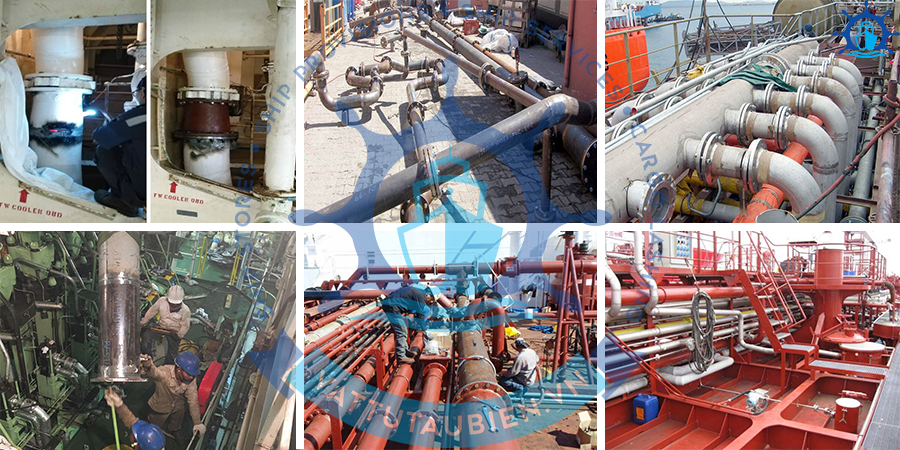 Maintenance And Repair Of Piping And Valve Systems: Let Us Help !
Bilge – Ballast Water System
Air Vent – Sounding – Draining Systems
Fuel – Diesel – Lube – Thermal Oil System
Cooling – Fresh Water System
Cargo Tanker – Chemical Tanker Pipelines
Air – Steam – Foam – CO2- Fire Systems
Sea Chest – Safety Valves Renewal & Testing
Heating Coil Repair Works

Hydraulic Pipes Fabrication And Installation
Exhaust Gas Bellow & Pipe Renewal Works
Manifold Reducer Spool Fabrication
Expansion Joints Fabrication And Installation
Sampling Flange Fabrication
All Kind Of Pipe Modification And Pipe Repair Works For Ship System
Mechanical – Engine Works
Our Range Of The Following Repair And Overhaul Includes: Let Us Help !
Main Engine (2 or 4 Stroke Engine)
Auxiliary Engine – Generator – Governor
Fuel Injection Pump – Cargo Pump – Ballast Pump
Fuel Oil Separator
Air Compressor – Turbocharger – Cooler
Shaft Propeller – Bow – Stern Thruster
Crane – Gear System-Hydraulic System
Overhauling Of Mooring & Windlass Winch
Valve Seat Ring And Liner Renewal Works
Mooring & Windlass Winch Brake Liner Renewal Works
Pump Seal Renewal Works

Mooring & Windlass Winch Brake Holding Test
Davit's Winch Drum Overhauling Works
Repairing And Cleaning Of Auxiliary Boiler
Renewal Of Tube Plate, Water Tubes, Smoke Tubes, Stay Tubes For Auxiliary Boiler
Overhaul And Cleaning Of Mounting Valves, Safety Valves For Boiler Survey
Repairing Of Auxiliary Boiler Furnace, Tubes For Economizer, Boiler Control Unit And Burner Unit
Hot Works – Hull Repair & Steel Construction Works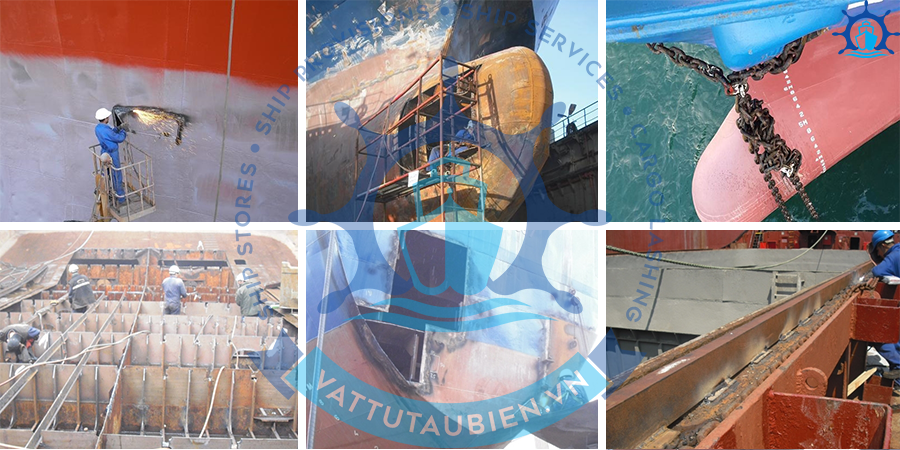 Hull Steel Repair – Renewal With Class Approval
Welding Repair With NDT – UT Test
Aluminum Gangway Repair
Anchor Chain Repair – Renewal Works
Preparing Repair Plan – Presenting It To Class For Approval
Preparing Repair Specification (Including Thickness Measurement)
Crane –Hatch Cover –Cell Guide Repairs

Reconditioning Of Shell, Deck And Steel Constructions
Repairing Of Fuel Tank, Water Ballast Tank, Fresh Water Tank
Renewal Of Sea Water And Fresh Water Pipes, Fuel Oil Pipes, Hydraulic Pipes
Fixing Of Hatch Covers, Hydraulic Jack For Hatch Covers
Repairing And Fabrication Of Accommodation Ladders
Cargo Lashing & Securing – Stevedore Services – Packaging Services – Cargo Protective Cover Tarpaulin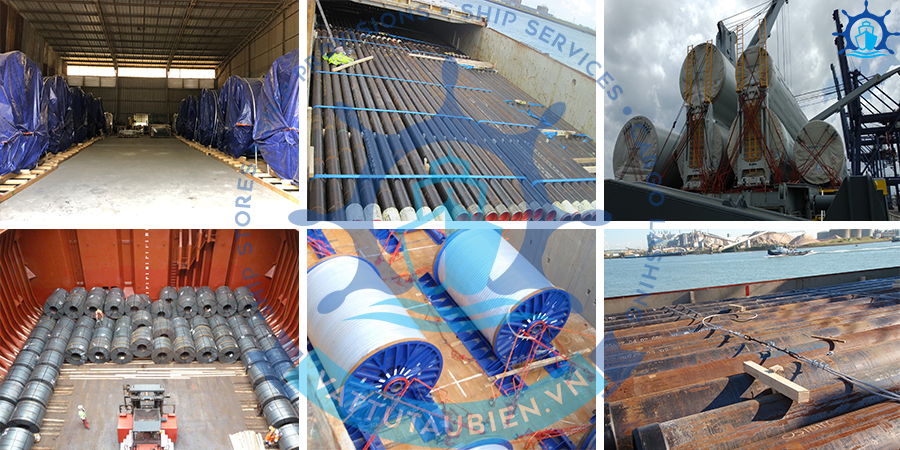 Lashing & Stevedore : Steel Coil – Steel Pipe – Steel Billet – Steel Plate
Lashing & Stevedore : Heavy Machinery – Wind Tower – Break Bulk Cargo

Waterproof Cargo Covering PVC Tarpaulin : Machine & Equipment – Industrial Equipment – Wind Tower – Container …
Packaging services : Wooden Crate – Making Wooden Case – Making Wood Pallet – Wood Baling Services –  Collapsible Wooden Case – Shrink Wrapping
Further Services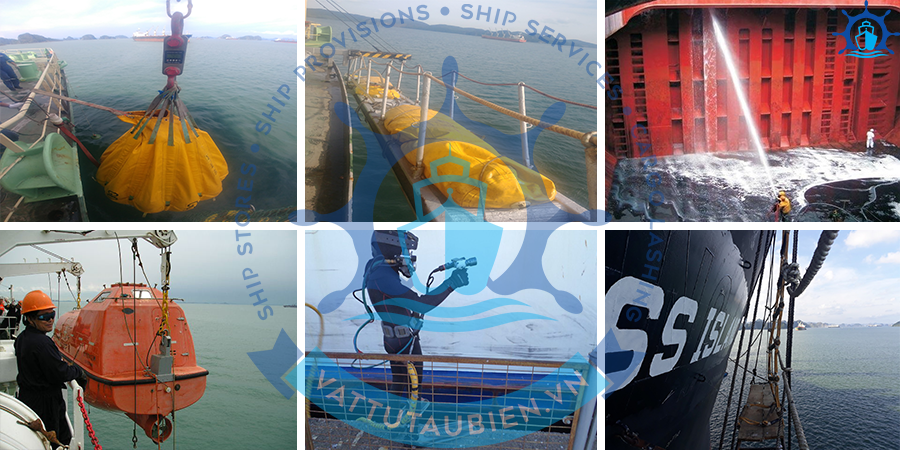 A Wide Selection Of Our Maintenance Services Include: Let Us Help !
Cargo Tank – Ballast Tank Cleaning
Underwater Cleaning – Repair – Welding
Maintenance – Load Test Of Lifeboats – Launching Appliances On Load Release Gear

Maintenance – Load Test Of Gangway & Crane
Hull Surface Treatment (e.g. Sandblasting – Painting – High Pressure Washing)
Ship Painting – Scaffolding Works
Insulation Works